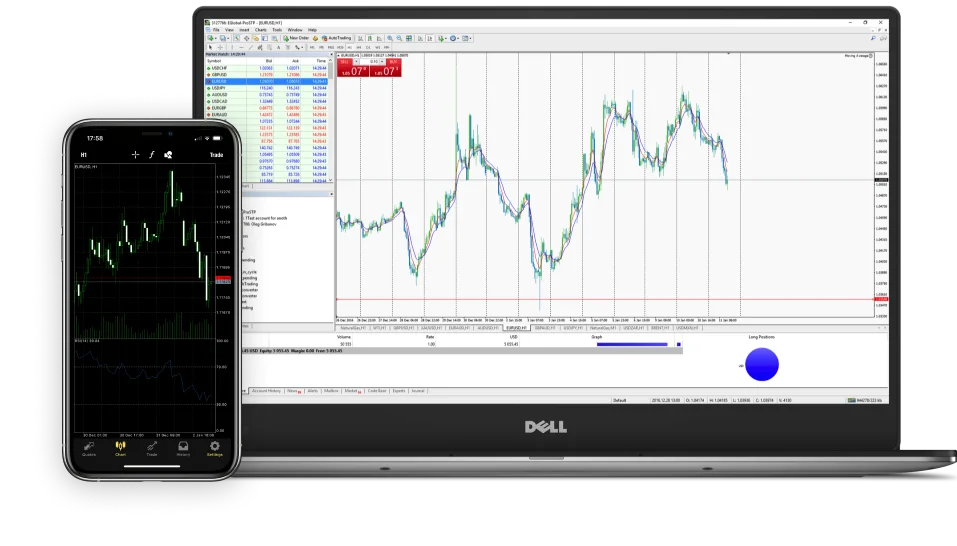 Installable software
MetaTrader 4
This is the most popular professional full-featured Forex trading software available. Download it here, safely and for free.
Download for PC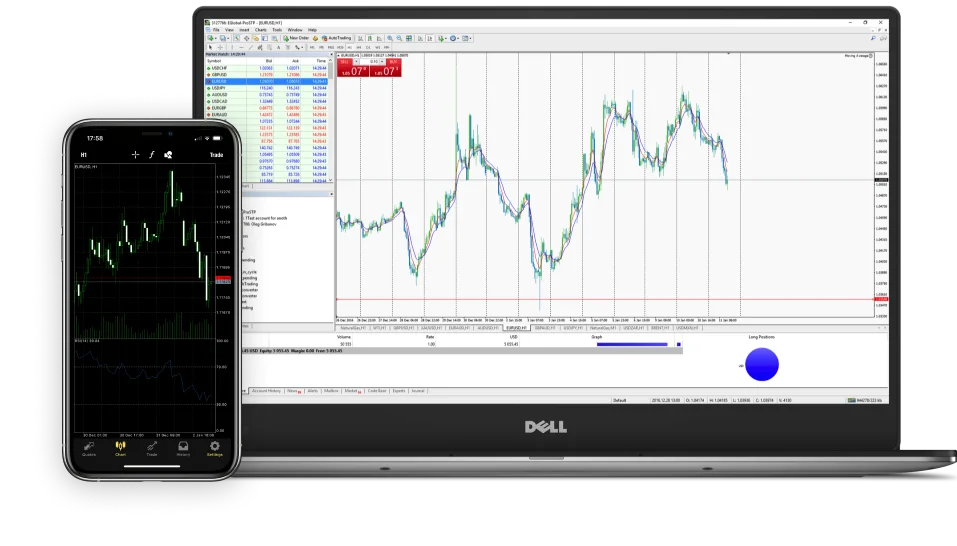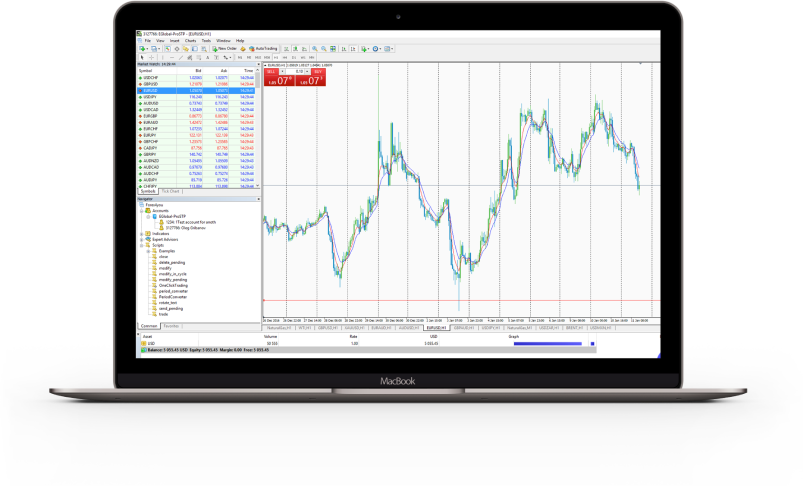 More than 150 instruments including Forex, Commodities, Stocks, Indices, and Crypto
Innovative market execution solutions through E-Global Forwarder
Market execution from 0.37 seconds on ProSTP account
Fully compatible with Forex4you Desktop and Forex4you WebTrader
Mobile applications for iOS and Android
Full Expert Advisor functions
Automation scripts and alerts
More than 50 integrated indicators and charting tools
Integrated Share4you – copy trading platform
How to install MT4 (Win)
03
Run mt4setup.exe and install using default values
05
Enter your account username & password
View step-by-step guide with screenshots
Forex4you MT4 System Requirements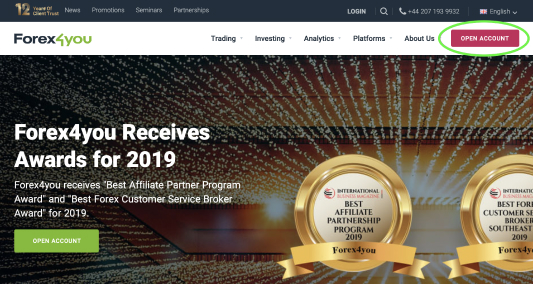 Enter required information in the fields and push register button
After that you will receive SMS with confirmation code
Enter it to finish registration of Forex4you account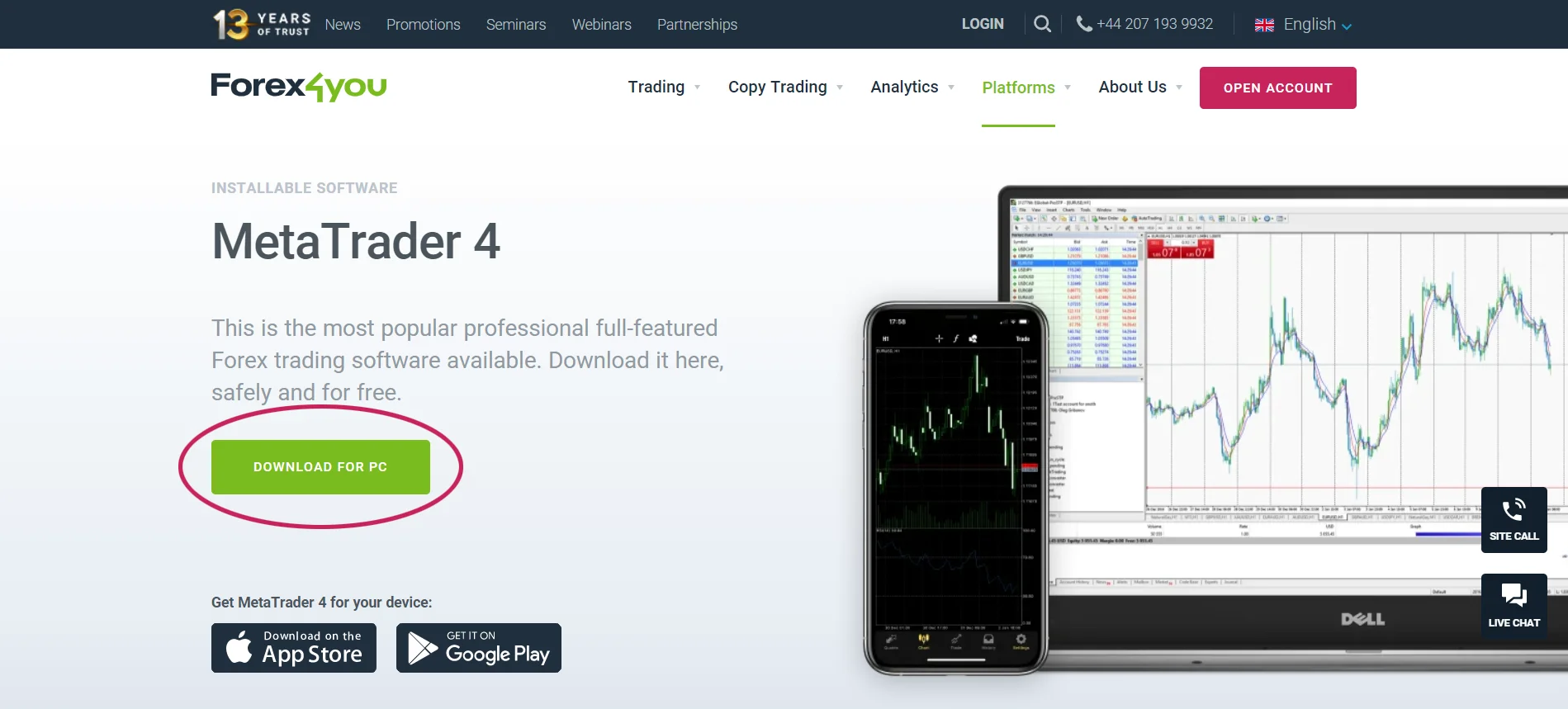 Download the Forex4you MetaTrader 4 for PC
03
Run mt4setup.exe and install using default values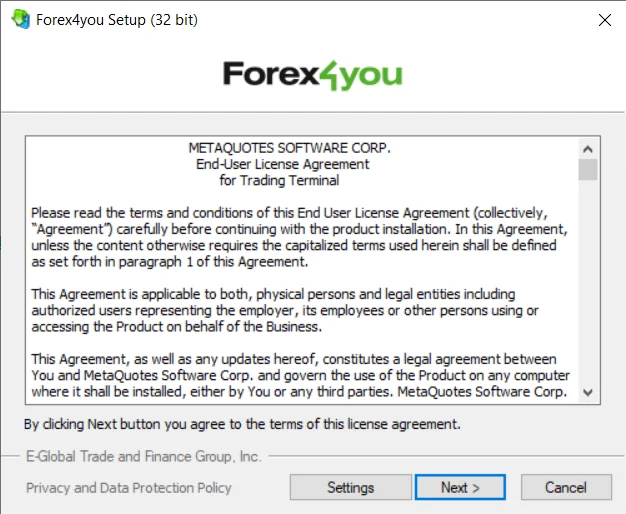 Run mt4setup.exe to install Forex4you MetaTrader 4 terminal
Use default settings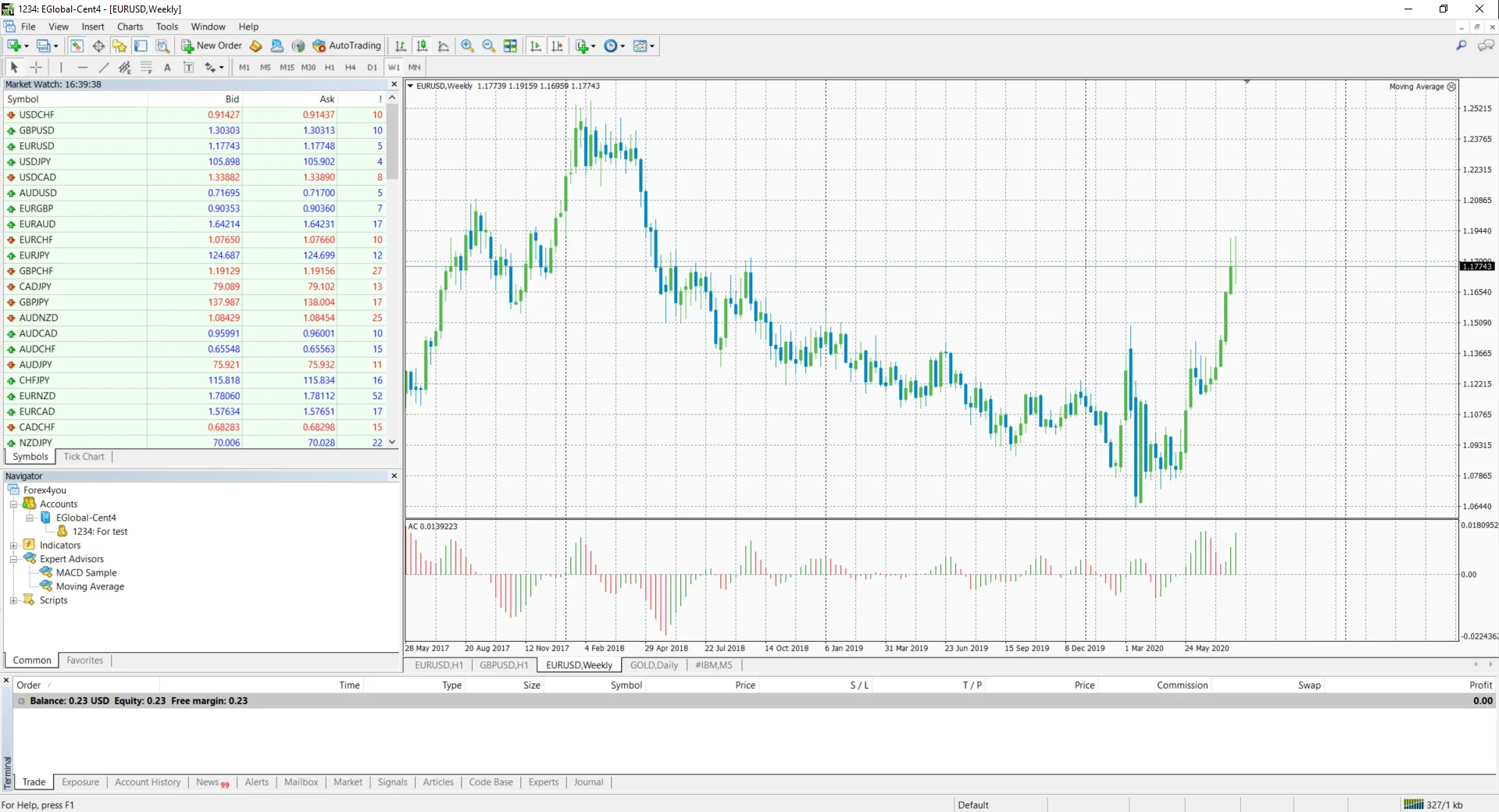 Found icon "Forex4you" to launch MetaTrader 4
05
Enter your account username & password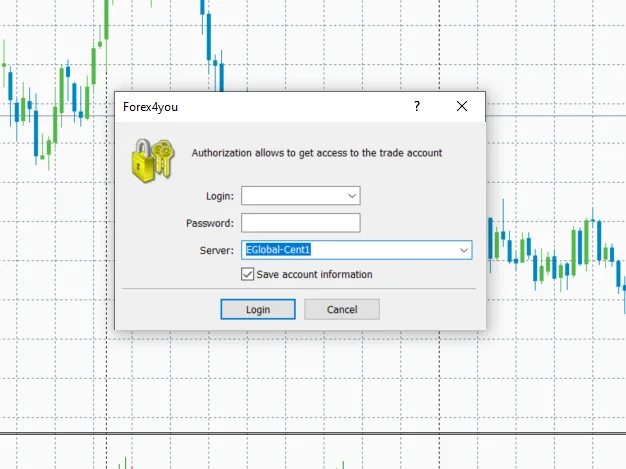 Enter login, password and choose server
Start trading
More about MT4
Forex (foreign exchange) is a global market where traders buy & sell currencies for a profit. The global forex market has a daily volume of approximately $5.3 trillion, which is largely made up of institutional trades.
Although forex is a high risk – high reward financial instrument, it can be generally considered suitable for all investors. Based on country or jurisdiction, brokers may issue a risk warning or a risk disclosure. Traders are generally encouraged to check their country's law or regulation regarding forex trading.
The introduction of accessible technology in the financial market has increased the involvement of retail traders in forex trading. By using a forex trading platform, anyone can easily buy and sell currencies to potentially make a profit from home. Moreover, brokerage clients can trade their favorite stocks and cryptocurrencies through the MT4 platform.
The forex trading software industry is heavily dominated by MetaQuotes Corp, the producer of Metatrader 4 (MT4). MT4 is one of the most popular software used by traders in the retail Forex market. MetaTrader 4 is the leading choice for most traders. Moreover, other options have developed in recent years.
MetaTrader 4 became the world's most popular trading platform because:
it allows traders to analyze financial markets
traders can execute multiple types of orders
traders can develop & apply programs for automated trading
In a single platform, traders will find a powerful combination of trading tools that allow them to implement complex trading strategies. Forex4you offers MT4 free of charge to its customers. MetaTrader 4 can be used on computers and all mobile devices. It is reliable, safe, relatively easy to use and has a full set of built-in indicators.
Unlike Institutional forex trading, Retail forex is a relatively new industry. There was no other reliable trading software available except MetaTrader 4. Metaquotes Ltd launched MT5 recently from its prototype MT4, which is advertised as substantially more advanced. There are more complex charting systems with deep analytical tools, even though the MT4 is enough for forex traders. To this day, MT4 is the most widely used and downloaded platform around the world. If traders are satisfied with their current functions, there is no need to change/upgrade.
The first generation of online forex trading platforms emerged in 1996. It allowed the market to develop at a much faster pace and for customer markets to increase. Therefore, web-based retail forex allowed individual customers to participate in the global forex markets directly from their computers.

The first generation of such trading platforms was basic software that was downloadable to computers and still lacking user-friendly interfaces. Slowly new specialties such as technical analysis and charting tools were added into it to provide more enhanced attributes. Moreover, mobile & web-based versions of the platform made MT4 even more accessible.

MT4 starts with the FX Charts trading terminal released in 2000. Towards the end of that year, a completely new platform called MetaQuotes with the built-in MQL programming language was released. In 2003, it was replaced by a more advanced and productive MetaTrader terminal created from scratch. A few months later, mobile apps were successfully launched, which made the company's products even more attractive.

The official release of the most productive, secure and functional trading platform, called MetaTrader 4 took place in July 2005. Since 2005 a lot of new assemblies have been released, which improved the stability and reliability of the program. Since then, MetaQuotes software has dominated the forex trading space.
Why should traders use Forex4you MT4?
This is a straightforward question. All traders and investors use MT4 as a trading terminal and an analytical tool. Metaquotes Ltd. offers the MT4 software to all forex brokers. However, some brokers provide many premium features of MT4 to their clients for free. Forex4you provides premium features of the MT4 platform to clients.
Execution time as low as 0.37ms on ProSTP account
Trading Central technical analysis
DowJones news
Social trading on Share4you
There are great technical features that clients benefit from on MT4. For example, traders can write their MQL programs for a tailormade trading strategy through the Forex4you MT4. The wide range of technical analysis tools available in the Forex4you chart allows the traders to benefit from complex technical analysis.
Traders can combine technical and fundamental analysis by watching the built-in economic event features. In these tools, the important international and domestic news are published as soon as the events take place. Moreover, traders can see political events and their effects on the financial market, especially in forex & Dow Jones.
More than 30 analytical tools allow the traders to perform a deep analysis with appropriate backtesting. The spread provided by Forex4you is more flexible compared to the other forex brokers. Moreover, traders can use MT4 at maximum capacity. This includes charting tools, line studies, Fibonacci tools, expert advisors and SMS & email alert with no limitations.
MT4 Trade Execution Features
The powerful MT4 trading system allows the trader to implement all types of forex strategies with any complexity. Traders can combine different types of market orders, including pending, stop orders and trailing stops to open market positions.

There are three trade execution modes in the MT4 Platform (instant, request, and market) to provide flexibility. Traders can select a suitable model that is compatible with their trading strategy. They can take action if the trading strategy requires entering the market at a certain price. In that case, the trade will activate as soon as it reaches the desired price.

If the client wants to enter a trade regardless of the price, he can use the market execution/instant execution mode. In this trading model, the broker opens a position for traders at the current price without any additional confirmation.

Pending orders are set in the present but they will activate in the future once the trade meets the specified conditions. For example, Sell Limit is an order to sell a particular instrument when the symbol price moves towards the targeted price. Traders may use this order if they believe that the downward trend will reverse and a bullish trend will follow.

Another option is Stop orders (Take Profit and Stop Loss) that help traders lock profits and minimize the losses. This option is a combination of market or pending orders, as well as with the current open position.

For example, Traders can place a Buy Limit order and set the Take Profit level 300 pips above the open price. If the price reaches the specified level, the long position will close with a guaranteed profit. Therefore, you do not lose it if the price reverses and moves downwards.

Stop Loss works the same way that closes the position with a certain loss. This feature minimizes losses in case the forecast has turned out to be wrong. For example, a Stop Loss set automatically closes the position when the price moves below the stop loss level.

Trailing stop automatically moves Stop Loss to a certain distance away from the current price. However, if the price reverses to the trailing stop loss level, the trade will close automatically with a minimum profit.
Technical analysis tools of MT4
Technical analysis is based on the detection of particular trends and patterns of the market formed on charts. This tool is used to identify market trends to make forecasts on future exchange rate changes. It also defines market entry and exit points along with the set Stop Loss and Take Profit levels.
MetaTrader 4 technical analysis tools consist of 30 built-in indicators, over 2000 free custom indicators and 700 paid ones. All these will guide traders to analyze the market at any level of complexity.
Moreover, MetaTrader 4 offers 24 built-in analytical objects- with channels, lines, Gann, shapes and arrows, and Fibonacci tools. With these tools, traders can forecast the future price movement. Moreover, they can apply the object manually to charts and indicator windows. You can find the market trend, forecast the price direction and set support/ resistance with the analytical tools.
Each asset can be displayed in 9-time frames — from one minute (M1) to one month (MN). This allows traders to combine technical indicators and graphical objects on various time frames of a single symbol. In addition, traders can use multiple technical indicators to ensure the maximum likelihood of the desired price direction.
For example, traders can draw a trend line on the daily period. They can then view it on intraday M15 to understand longer-term trends. This will allow traders to assess the current market situation on MT4 more accurately and timely. Moreover, it will reduce the influence of the human factor in making decisions.
In the Forex4you MT4 chart, traders can open an unlimited number of charts at a time. Therefore, they can customize their appearance with various graphical objects and indicators to them. All charts in MT4 are interactive, and the trader can zoom in or out and scroll through them in real-time.
However, the 30 built-in indicators are for the beginner traders. Moreover, investors can build their indicators in MQL4 or download any from the free 2000 indicators. At the same time, traders can search among the seven hundred paid applications in the Market. If the trader is not satisfied with these options, he can use the Freelance service to build a custom technical indicator.
Automatic trading is a helpful tool to process trade orders automatically for the client. It enforces a fast reaction following predetermined trading rules. Traders usually set up the MQL programming language of MetaTrader4. The automatic trading system carries out trade mechanically based on the setting of trades provided by the trader. An important feature of automated trading is that it removes the emotional factor from trading, which often affects investment decisions negatively. Thus, it can handle investment, along with all the analytical processes involved in the trading course.

The MT4 platform provides a feature to execute repetitive trading orders at a speed that is impossible in manual trading. This way, many investors save considerable time from the routine of market watch and execution of the trade.

The other premium feature of the MT4 automated trading is that it is compatible with backtesting. It applies to the trading rules to historical market data and this way investors assess the efficiency of several trading ideas.

By applying backtesting, traders can evaluate and fine-tune trading ideas. Therefore, they can later apply in their trading practices for better results. Automated trading is a sophisticated method to trade the markets. This means beginner traders should start automated trading with small lot sizes during the learning process.

In addition, potential mechanical failures can also affect the running trades carried out by the automated system. Many traders with a poor internet connection are compelled to monitor trades manually while using automated trading. To exclude negative factors like slow internet, computer failures, or unexpected power cuts, MT4 provides a solution. They offer optical fiber connections through MT4 VPS to ensure smooth operations of automated trading.
Automated trading with MQL
Over 70% of the stock trades in the United States since 2014 have been carried out through automated trading system orders. MT4 created the opportunity for retail traders to get involved in the forex market alongside professionals. This is why automated trading is one of the most important features of MetaTrader 4.

MT4 allows automated trading in the forex market as well as Stocks & Indices. The MT4 platform uses the MQL4 scripting language to implement trading strategies. This helps traders to develop their custom indicators, expert advisors and scripts. Moreover, traders are allowed to test and optimize their EAs with the MT4 strategy tester.

MQL4 has a great number of functions that allow traders to analyze the current and previously received quote. With this feature, traders can follow the price changes through technical indicators for managing their trading orders. All these MQL4 tools allow traders to indicate the price movement for both forex and other instruments. They help investors identify price dynamics patterns, market trends and possible entry & exit points to manage trading signals.

The trading programs of the MQL4 language serve different purposes with various features. Traders can link an expert advisor to a chart and manage the charts online. This way they can see valuable information about upcoming trade setups. As MQL4 is directly attributed to the MetaTrader 4 server, it can provide information instantly and accurately.

Moreover, investors can write their custom indicators besides those available on the MT4 client terminal. There are many scripts like expert advisors that do not execute any predetermined action on traders' behalf. Therefore, they are meant to handle the execution of certain trading activities only.
MT4 was designed by taking into account all the technological requirements of the 21st century to ensure flexibility and mobility. Brokerage clients can access MT4 mobile trading directly from their smartphones and tablets, as well as their desktop computers.

Traders can manage their portfolio (including multiple trading account management) through mobile trading platforms. The mobile trading platforms are compatible with both iOS operating systems, Windows, and Android. Traders can follow up on the market changes 24 hours a day and place trades directly from the iPhone or iPad.

MT4 mobile trading makes it easy for online investors to follow the forex & stock markets anywhere and at any time. Besides placing and executing the orders instantly, traders can manage their accounts even when they are away from their home PCs. In addition, mobile trading platforms provide a wide array of analysis tools and the graphical display for proper account management. MT4 mobile trading features are the same as for desktops, so clients can choose any of these devices to trade.
In MT4, traders can see the Financial news and alerts tools that keep them informed of the latest market events. Moreover, it helps them make better trading decisions. Trading strategies may work well at some point, but they could stop working in the future due to unforeseen political events.

In this case, staying informed about events reduces the risk of loss. Traders can alter their trading positions as soon as they receive information about important news alerts. Price quotes in the MT4 chart are influenced by various global and regional events around the world. These events can either be political or economical. News from large financial institutions, central banks, or political events can help investors forecast the changes in currency exchange rates.

The financial news line in MetaTrader 4 is a guide in the world of financial trends. It helps traders track market changes and this is how traders are able to make the right trading decisions.

Moreover, there are options for several notification tools in the MT4 chart that provide information regarding important market developments. However, traders can create their notification according to their trading conditions. For example, traders can be notified if the price breaks a specified bid or ask price. When the specified event occurs, MetaTrader 4 will notify by a sound or an email.

There are options for sending SMS or push notifications directly to the mobile phone. In this process, traders can receive news about economic events on their mobile. And as a result, they can take action through the mobile phone as well.
FAQ
How can I start trading on Forex4you MT4?
For live & demo trading, you need to register for a trading account with Forex4you.
I already have a Forex4you trading account. Can I use it to log in to MT4?
Yes, you can. Your Forex4you trading account can be used across all Desktop and Web platforms that we offer.
How can I log in the Forex4you MT4?
If you are a registered client with Forex4you, you will have a real MT4 ID and password. With this login information, you can log in to your MT4. After opening the MT4 terminal, please go to File -> Login to trade account, then provide your login details.
Are Hedging and scalping allowed on the Forex4you MT4 platform?
You can use the Share4you service if you have an account with Forex4you MT4. There is no minimum deposit required.
Are Hedging and scalping allowed on the Forex4you MT4 platform?
A Forex4you MT4 user will receive a maximum of 1:1000 leverage.
What is the maximum leverage provided by Forex4you?
A Forex4you MT4 user will receive a maximum of 1:1000 leverage.
Can I trade cryptocurrency through Forex4you MT4?
Yes, besides Forex & CFD, traders can trade cryptocurrencies through Forex4you MT4.
Can I download Forex4you MT4 for Android & iOS?
Yes. besides Windows, you can download the Forex4you MT4 for iOS & Android.
Can I use my custom made indicator through Forex4you MT4?
Yes, you can trade with your custom made indicator. There are no limitations for EAs and indicators on Forex4you MT4.
I want to use MT4 as well as Forex4you platform at the same time. Is this possible?
Yes, it is. You can use both MT4 and Forex4You Web-Based/Desktop. For example, you can open trades using an EA on MT4, then you can close them from the Forex4you Android app.