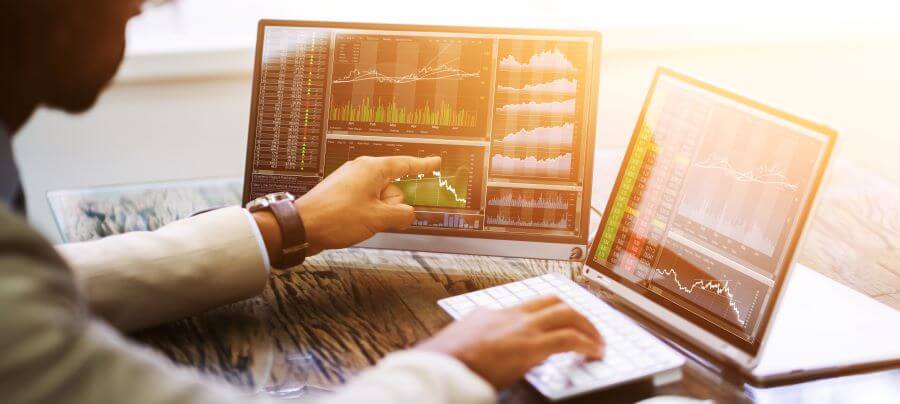 Who are the best Forex traders in Nigeria? If you search the internet, it will be hard to come up with authoritative names that represent the best traders in the Nigerian FX space. This is because the evolution of the Forex market in Nigeria has been a very chequered one which has seen periods of booms and bubbles, punctuated with some high profile scams.
The craze for Forex trading in Nigeria hit unprecedented levels in the late 2000s and has only been rivalled recently by cryptocurrency trading, which has continued to hit global highs since 2014. But before cryptos, the Forex market had a period of massive public participation, before a combination of factors produced a bubble that hit many traders very hard. Forex trading is starting to have a resurgence in Nigeria, but things are different. There is more knowledge available, and people are generally more discerning.
Several big-name brokers have also broken into the local market and are offering services in the retail end of this market. Institutional involvement in the Forex space in Nigeria is confined to the investment divisions of the country's banks. Hedge funds in Nigeria are mainly unknown and tend to operate without public attention. There is also a lack of official regulation of this sector by the Securities and Exchange Commission (SEC), although discussions have been ongoing for three years.
This picture defines the Forex trading landscape of Nigeria. Therefore, the best Forex traders in Nigeria are primarily concentrated in the institutional base of the country's trading ecosystem and not on YouTube. There are merely a handful of retail traders who are making it, and they are mostly anonymous. If you see them on YouTube posing with the latest cars and all that extravagance, these are all just a show and are not indicative of success.
What is the FX Trading Environment in Nigeria Like?
Forex trading in Nigeria kicked off in 2006 when Northfinance (now FxPro) and Marketiva became the first brokers to enter the Nigerian market. They penetrated the market by introducing brokers and online ads. Eventually, word-of-mouth advertising kicked off, and many of the so-called Forex gurus helped promote these sites as part of their seminar campaigns. There were no local branches, and all funds had to be sourced and wired to the brokerage accounts. The local populace did not have a lot of knowledge about how the market worked. This opened the door for scam brokers and local scammers to permeate the marketplace, eventually leading to a bubble in 2009. This bubble lasted for five years before interest was rekindled, primarily due to the increasing popularity of cryptos.
During this bubble, many people claimed to be Forex experts and the best Forex traders in Nigeria. However, they have all fallen by the wayside as they were taken apart by the market upheavals brought on by the global financial crisis. The actions of the Swiss National Bank in 2011 and 2015 on the EUR/CHF pair also contributed in bankrupting several of these traders.
Since then, there have been changes in the Forex trading landscape. At least four Forex brokerages have opened local offices, and there are hardly any adverts on the radio by people claiming to be the best Forex traders as it was during the "wild, wild west" of the Nigerian Forex landscape of the late 2000s.
Are the Best Forex Traders in Nigeria on YouTube?
YouTube has sadly become a medium where those who purport to be the best traders come around to show off. The populace is particularly susceptible as unemployment is rife and wages are notoriously low. Things that are seen on social media channels tend to be believed a lot by the local populace. Therefore, video-based social media such as Instagram and YouTube are populated by people who show off a lot of stuff and claim to be the best Forex traders. The lack of regulation in the market space has added to the problem.
As far as Nigeria is concerned, you will not find their best traders on YouTube. You will find them elsewhere, mostly in professional circles. The examples we will give below paint a profile of an individual who constitutes the best Forex trader in Nigeria.
Who are the Best Forex Traders in Nigeria?
The examples provided here are institutional players who have vetted, audited and proven results, and these are professionally trained traders who have shown consistency in their trading outcomes. These are not the doctored results you see in many online fora.
Michael Anyimah
Michael Anyimah typifies a very successful Forex trader at the institutional level. He is a 1977 graduate of Actuarial Science from the University of Lagos, Nigeria. He started his FX trading career with Citigroup Nigeria, where he developed FX risk hedging strategies for clients. After working at Citigroup Nigeria for three years, he switched to Zenith Bank PLC in March 2009 to Head the FX and Derivatives Sales and Trading desk. At Zenith Bank, he caught the attention of the trading world by reporting an income of N68 billion (nearly $190million) in the 2017 financial year. This feat was a record for any FX and derivatives desk in the banking industry in Nigeria.
When Anyimah joined First Bank of Nigeria PLC (FBN), the bank had just come of a year of netting only N4.9billion (about N13.6million). The difference in performance between Enyimah's desk in Zenith Bank and that of First Bank was clear for all to see, which explains why FBN poached him from Zenith Bank.
As of 2021, Anyimah has returned to Zenith Bank, where he is now the Vice-President.
Adetunji Adeshina
Besides being a certified market technician and the managing Partner of a financial markets research firm, Adetunji Adeshina is also the convener of an annual event for industry professionals in Lagos, the Traders, Investors and Analysts (TIA) Meetup.
Tunji Adeshina is a participant in the retail end of the market who had the opportunity to receive professional training. According to his confession, his professional training enabled him to unlearn some of the stuff he picked up in the retail space. He primarily trades his account and also teaches technical analysis in Nigeria. Those who watch TVC News, Nigeria, are also conversant with Adeshina, as he is a regular resource person on the financial market show on that channel.
These are only two out of several of the best Forex traders in Nigeria who you would not see on YouTube. You see them giving professional insight in reputable electronic media which operate in a regulated atmosphere.
Social media is not regulated, and there is no pressure on anyone flaunting sports cars or private jets to prove that they own such things by their FX trading proceeds.
If you want to see the best of Nigeria's FX channels, they can be found in professional setups and tend to have recognized input made in regulated channels. Be wary of anyone posing with sports cars or luxury houses on YouTube. They are not the best FX traders in Nigeria.